We have 20 years of floral design, unique gift basket and event experience. Designs by Rachel sets the standard for florists in Lubbock and the surrounding area. Our longtime partnerships with local venues, suppliers, and world famous farms ensure you the finest flowers and gift baskets for all your special occasions.
Order your flowers, gift baskets, chocolate covered strawberries, cup cakes, balloons, plants and more. We are happy to customize your order. Add gift cards, movie tickets, spa massage and more to customize your arrangement. Call Designs by Rachel to order now (806) 632-9758. We have sorority flowers for all your sorority events. Pledge week flowers, orientation decorations, Bid day flowers and gift baskets. Corsages for your debutant. Flowers for your Lil or Big Sis. Flower arrangements start at $35 and Up. We have a large choice of selection of flower options and gift baskets too.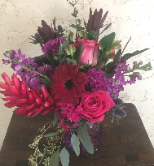 Call us to create a custom floral arrangement for you
(806)632-9758
tri_delta.jpg
TRI-Delta flowers
Sorority Flowers Fall Rush 2021
i in the upper left hand corner for description and pricing.